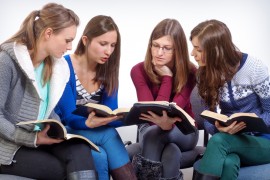 When you think of the apostles, do you picture old, gray-haired men? People very different from your teens? It's time to change that opinion.
The Apostles as Teens
Consider this: the apostles, except for Peter, all very well may have been in their teens. Recall the incident of the temple tax (Matthew 17:24-27). Men, aged twenty and over, were required to pay this annual one-half shekel tax (see Ex 30:11-16). Jesus tells Peter to catch a fish in whose mouth he will find a shekel, enough to cover the tax for the two of them.
All the other disciples are with them at this time, but no mention is made of them having to pay this tax. Perhaps that's because they were all under age twenty—making them teenagers.
Teenage Tendencies
Recalling some of the character traits of the apostles, it's not too difficult to see similarities with teenagers.
• Doubt. Tell a teen something that very well may be for his or her own good, and that information might be rejected out of hand. "We have seen the Lord!" the apostles informed Thomas (John 20:25). I paraphrase his response: "Yeah, right. I'll believe that when I see it!"
• Denial. Ask a teen about a possible friendship with or the activity of a particular individual, and the response may be untruthful and sound a lot like Peter's "I don't know him" (Luke 22:57).
• Infighting. "I'm Mom's/Dad's favorite." Or as everyone knows it, "sibling rivalry." After a hike through Galilee to the village of Capernaum, Jesus questions his followers about what they were discussing on the way. They immediately clam up because "they had discussed with one another who was the greatest" (Mark 9:34).
• Jealousy. "I should have made the team, not him," your son might say. "I wish he was my boyfriend, not hers," your daughter might think. Jealousy is nothing new (as the story of Cain and Abel proves). The apostles felt it. After Jesus told Peter the type of death Peter could expect to undergo (John 21:18), Peter immediately wanted to know the fate that awaited the beloved disciple John and asked the Lord, "What about this man?" In other words, "Is he not to be martyred, too?"
Loving Responses
If our teens aren't too different from the apostles in their faults, perhaps they aren't that dissimilar in their virtues, either. That can be a comforting thought, for the apostles above are all saints.
But what might a parent do when met with a teen's doubt, denial, infighting, or jealousy? Jesus' responses to these situations can be our models:
• Invitation to faith
When faced with Thomas' doubt, Jesus issued an invitation to faith. Touch me, see me, He said. "Do not be faithless, but believing" (John 20:27). For a teen who doubts his or her parents' wisdom, a gentle challenge to give what you say a try may mark a turning point.
• Prayer and confidence
Even before Peter denied Christ, Jesus expressed his support for the man who would lead the Church: "I have prayed for you that your faith many not fail; and when you have turned again, strengthen your brethren" (Luke 22:32). That's a good example for parents: keep your teens always in your prayers, and express to them your confidence that they will make good decisions and be leaders amongst their contemporaries.
• Focus on selflessness
In addressing his apostles' infighting, Jesus sat them down and laid out the way we are to love one another: "If anyone would be first, he must be last of all and servant of all" (Mark 9:35). Ask your teens if they are really desirous to be top-of-the-heap, and task them with proving it by living out Jesus' command.
• MYOB
Just as Jesus lovingly reminded Peter to mind his own business and to not dwell on the fate of others, we can guide our children in the same fashion. Minding one's own business is not the same as refraining from proclaiming the Gospel; sharing the Good News is everyone's business! It just may look and sound different among different people. All of us, teens or adults, benefit from being reminded that we have one directive in this life. It is the same one Jesus gave Peter. It's simple, but critical. The command is a short one: "Follow me!" (John 21:22).
Related posts