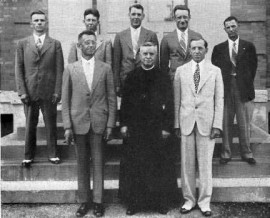 Society is growing more and more casual. I have seen people shopping for groceries in their pajama pants and fuzzy slippers. I've been to world-class classical concerts where people are dressed in Hawaiian shirts and jeans.  In fact, it's hard to think of anything people will dress up for anymore. Even weddings and funerals are getting more and more casual.
This bothers me because how we dress is a sign of how much respect we have for ourselves and for other people. If we don't dress up for anyone or anything, it's a sure sign that we don't respect anyone or anything.
Dressing up is a small sacrifice
Looking sharp takes effort. Putting on a well pressed suit and tie, rather than a wrinkled t-shirt, takes time. Shaving, rather than sporting a scruffy five-o-clock shadow, takes a little bit of effort. Combing your hair, rather than letting it stand on end, requires a small amount of work. It is exactly these little sacrifices of time and effort, though, that tell other people that they are worth it.
Trust me, I know it's not easy for men. We naturally don't want to make that effort. I guarantee that if you do, though, you will feel like a million bucks. You will feel more manly and more confident.
Continue reading at The Catholic Gentleman
Related posts