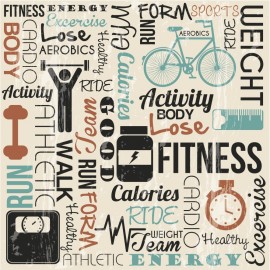 It happened last Sunday. While sitting in Mass, my 3-year-old son decided to be a "loud talker." Concerned about the prayerfulness of others around us, I whispered into his ear "I need you to whisper in church." To which he whispered dramatically back to me, "Neverrrrr."
Ah yes. The refreshing will of a preschooler. However, if you have an attention to story detail, he actually did what I asked him anyway. I whispered, and although his response was quite contrary, he whispered back to me.
Kids do what we model for them. We desire all the good things life has to offer for them, so we teach them about virtue, praying we instill all of the tools they will need for life. But—gasp—we parents are far from perfect and sometimes we want to ignore our own virtue, consuming a little too much of the "good things in life." We have the capability to behave in a way that can be a detriment to our kids' long-term physical wellness simply by how we treat our own bodies.
The way we care for our own "temples" ("Do you not know that your body is a temple of the Holy Spirit within you, which you have from God?" –1 Corinthians 6:19) teaches our kids what is acceptable and allowable. Now, I'm not saying counting calories, eating organic, or running a marathon is a guarantee that our kids will follow in our Nike-adorned footsteps. What I am saying is that the virtue behind a healthy lifestyle will most definitely rub off on your kids.
Here are 3 important virtues I hope to teach my kids by my own example of healthy living:
Discipline (Temperance)
I think we can all agree that we live in a pretty undisciplined society. The United States and its "can't get enough" mentality is a rabid consuming machine. In addition to a smorgasbord of other vices, our country celebrates with astounding amounts of non-portioned food for every event known to modern man. We, as Catholics, gather in a Church where Donut Sunday, Friday Fish Fry, Chili Cook-off and Potluck Buffet are par for the course.
Yet, we rarely speak of or model discipline in food consumption. This includes enjoying the gift of food, rather than the quantity; savoring the taste, rather than horking it down at record speeds. With the CDC reporting over 1/3 of our country suffering from morbid obesity, and the World Health Organization placing the U.S. as #2 in the world for record childhood obesity, now more than ever our kids need to know how to have discipline in their food choices.
We, as parents, can model this virtue by what we choose to put into our bodies. By stocking our homes with wholesome food instead of junk, and choosing one donut after church instead of 2 or 3, we teach them how to savor the true gift of taste in their food and not the quantity.
It starts with us.
Perseverance (Fortitude)
I am busy. You are busy. "Ain't nobody got time for (fill in the-blank)." Making time for fitness/healthy eating seems to be the last thing on the list for some of us, because people need us to be somewhere else, we're tired, or we have little downtime. We also live in homes where TV, movies, sports, and every other "Glowing Rectangle" have the ability to wrestle us into a chokehold of sedentary oblivion.
So, creating space and scheduling time for fitness is a profound way to model the virtue of fortitude. It's no surprise that some of the most successful people on the planet make it a required part of their day.
It starts with us.
Delayed Gratification (Prudence)
Let's add this to the long list of what the world needs more of. This virtue can carry over into so many other areas for you and your child's life. By modeling it for them and making it happen more to them, we can show the power of sweat, time, and determination. Working out for 5 days and giving up because you're not feeling and/or looking better, as opposed to the amazing feeling of being cheered on by your children as your cross the finish line of a 5K. Hard work naturally produces its own positive rewards and it's no question that our kids need less no-wait "cheating" and more well-deserved "treating."
It starts with us.
But the good and beautiful news of our own discipline, perseverance, and delayed gratification doesn't end with us. It brings us together as a healthier family—a holy-istic family if you will—that will breathe life into your children's futures and into your own life as well. And the benefits of living that life are truly endless.
"Let us rid ourselves of every burden and sin that clings to us and persevere in running the race that lies before us." —Hebrews 12:1 (NAB)
How can I model and teach the virtues of temperance, fortitude and prudence in regards to health and fitness better in my home?
Related posts