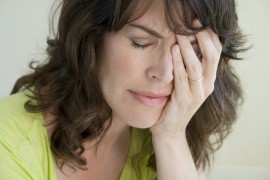 I hesitate to write this blog, mostly because it is not filled with words of advice or wisdom. At best, I pray that it will bring comfort, consolation, and hope.
This post is from the heart of a parent whose child suffers from debilitating anxiety and depression. This is for those parents who feel like the only ones whose teen deals with mental health issues or for some reason are silenced from talking about it by the shame that mental illness seems to bring with it.
Others Have Walked in Your Shoes
You are not alone. Although there are days you may feel you are, you are not. There are others who feel your deep sense of frustration, isolation, fear, sadness, helplessness, and discouragement.
Many parents have felt the frustration of watching their child suffer from an illness that is so unknown, so isolating, and with a myriad of possible cures—none of which seem to restore them to their true self.
I have felt the isolation of feeling like there is no one to talk to that understands. Well-meaning friends give advice about how to handle the situation, when in reality there is no way that a parent who has not gone through this would have any idea of how to advise us.
There are others who have had the fear of going to sleep at night wondering if they will wake to find that their child has decided to end his own life, and the relief when they wake up to find him alive and breathing.
You are not alone in feeling sadness that your child is not feeling the joy and happiness that God intends for her.
Others have felt the helplessness of wracking their brain to figure out how they can help their child, only to find that nothing they do really helps.
The discouragement of the many times you have called out to God to heal your child, but God does not appear to be listening.
God and Mary Are With You
So take comfort that you are not alone; there are other parents who know exactly how you are feeling. Not only are there other parents, but your heavenly Father knows and is with you. Our Mother Mary knows, too. On the days when you feel alone, remember that as much as you love your child, God loves him infinitely more.
"In my distress I cry to the Lord, that he may answer me." —Psalm 120:1
"Be strong and of good courage; be not frightened, neither be dismayed; for the Lord your God is with you wherever you go." —Joshua 1:9
If my child has a debilitating emotional diagnosis, have I really allowed the Lord to comfort me, carry me and given him this burden to carry?

If I know someone who's child has been diagnosed with a debilitating emotional diagnosis, have I really offered non-judgmental support?
Related posts